We recently had a project come through, where we needed to shoot and feature a hamburger. Unfortunately several issues prohibited us from having a food stylist on set for this particular project. Consequently I was a bit disappointed with the outcome. It wasn't that we didn't get a nice shot, it's just that I know how much better it COULD have been had circumstances been a bit different.
So… what did this provide? An Opportunity!! What a perfect chance to talk to one of our favorite food stylists, Stephanie Greenleigh, get a quick critique, but more interestingly get her take on what a good food stylist does and can do for any given project. And maybe get her to share a few trade secrets along the way 😉
First off here is the finished shot that sparked the conversation: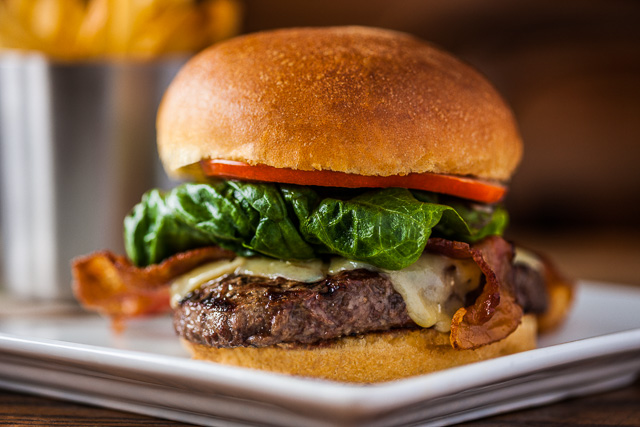 And we might as well show the unretouched shot that came out of the camera as well: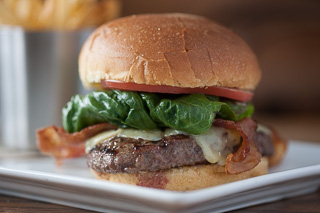 Stephanie and I have worked together on many occasions. Most recently we did a shoot for Dean's Dip where she crafted, well…, some perfect burgers!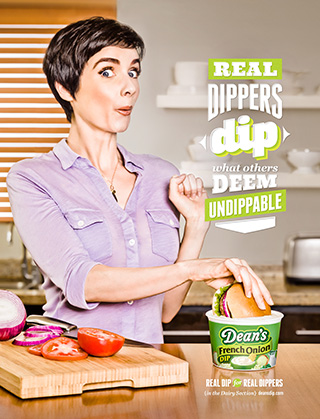 Let's dig in…
DHP: Looking at the shot we ended up with, what did they do right?
SG: They captured a realistic looking burger with "appetite appeal" in a natural setting.
DHP: What did they do wrong? / What would you do differently?
SG: I would have constructed the burger differently by building in more symmetry and stair-stepping the ingredients. I probably would have chosen a lettuce leaf that was more graceful and interesting. The top bun could have been a better fit. Redo on the cheese melt.
DHP: What is the most difficult part about styling a burger?
SG: It's all tough. Finding the right hamburger buns, building the sandwich structure, melting the cheese and applying the condiments at the last-minute on-set. You can imagine how difficult it is keeping the lettuce and tomatoes fresh and spritzed, while melting the cheese and heating the patty!
DHP: What does a food stylist "bring to the table" in situations like these?
SG: Experience. Stylists are used to dealing with constraints (product, layout, location, etc.)  —and of then of course being able to meet client needs. Also, a good sense of timing, the right tools and patience.
DHP: Are there things you CAN'T do (i.e. legally) when shooting a burger that is actually the product? And, what if anything is different if the burger is NOT the product but rather just a prop?
SG: When the product is the actual burger, you must use the client-supplied meat, and depending on the client, the buns and cheese. Most fresh ingredients and condiments can be store-bought (with the exception of proprietary sauces).
When food is featured as a prop (i.e., not the product being sold), the sky's the limit. You can even substitute dark turkey meat for hamburger meat, and use fake pickle chips.
DHP: What is the most important tool in your styling kit
SG: Without a doubt my long-handled tweezers. Ninety percent of the time spent on set is moving  around small items without disturbing other ingredients —it's a game of pick-up-sticks.
DHP: Is there a "secret" you are willing to share that would make this or any other food product "sing"
SG: I'm not sure this is a secret, but I would lightly brush the top bun with a small amount of oil to give it a nice sheen and look hot, and hollow out the top of the bun so that its "sits" comfortably on the top of the burger. As a final touch, I would spritz the lettuce and tomatoes with a small amount of glycerin and water to enhance the look of freshness.
DHP: How did you get started in this industry?
SG: I studied design and art history in college while running a restaurant.
My first job out of school was in textile design, which eventually led me to start a children's clothing line.
This kind of crazy, eclectic background turned out to be a good resume for a stylist. After assisting established food stylists in the field for a couple of years, I put together a portfolio of my work and starting calling on photographers. I was lucky, my first project was a cookbook which helped expand my portfolio and gave me experience styling a variety of food —everything from appetizers to desserts.
DHP: Advice for anyone thinking about food styling as a career?
SG: Make sure your personality is compatible with working on set. I've seen a lot of people coming from a culinary background who are used to a fast-paced environment. Food photography is different; it's a  "hurry up and wait" environment. Styling a bowl of cereal may take up to 4 hours, with stakeholders asking you to move a cereal flake over 1/32nd of an inch. There's a lot of patience involved.
DHP: What is the biggest misconception about Food Stylists?
SG: That we are magicians with secret potions. 
DHP: What is involved in prepping for a job from your end?
SG: It starts with a shopping list which evolves as the pre-production layouts/boards are finalized. There are many trips to the grocery store. Some items can be purchased a couple of days ahead, others immediately before the shoot.
On the Dean's Dip shoot, we needed to determine the exact size of the finished burger. The ad's story was that this container was large enough to dip an entire burger into it. The challenge was that the talent needed to be able to comfortably place the burger in the container and yet it still had to be large enough to emphasize the story.
The first step was finding the perfect bun that was also the correct size – not easy!  After two days of constant searching we ended up having the buns custom-made. We then had to determine the size of the patties so that they would fit the bun properly. We experimented with the type of hamburger meat, what diameter to shape the patty to allow for shrinkage after the patty was cooked and the best cooking method to brown the meat consistently.
The tomatoes and onion were cut to size and the pickles sorted. All food and equipment was properly stored and packed, making sure everything was ready to go for an early morning call time the next day.
DHP: What questions are you sure to ask before starting production?
SG: I ask to see the updated layouts/boards, how many shots per day and will talent be involved?
Does the client have a particular way that they'd like to see to product portrayed?
Will the client supply the product? If so, how much will be sent.
What is the budget?
DHP: Budgets are tight everywhere today… I know the answer to this, but can you explain from your perspective why it is worth the additional expense to have a food stylist on set?
SG:  A chef's main concern is that the food tastes good, a stylist's concern is that it looks good.
Food is generally prepared differently for the camera —we focus on preserving and enhancing its shape, color and texture. 
We also understand layouts and camera angles which can be tricky for someone not used to considering these constraints, and how these things ultimately will determine how the food is presented.
We also understand the photo shoot process and what our role is within the photo team to produce a successful shoot.
DHP: What can a client or photographer do to elevate the aesthetic when a Stylist is simply not an option?
SG: I would imagine the photographer and client need to have a clear vision of how they would like to see the food prepared and a shared aesthetic sense.
DHP: What do you want people to know about you / your profession?
SG: It's a creative and rewarding profession, but not always glamorous. There's a lot of schlepping and dishwashing involved.
Stephanie is an AMAZING food stylist and you can see more of her work on her website: http://www.sgreenleigh.com
Can can also read our posts about our most recent gig together for Dean's Dip here: Dean's Dip
More Dean's Dip
And Finally
And you can see us both in action in this Behind the Scenes Video from the shoot!